SALT LAKE CITY — A legislative committee considered ways Wednesday to help undocumented law school graduates to practice their profession in the state but who aren't allowed to take the Utah bar exam because they're not U.S. citizens.
Provo attorney Randy Spencer brought the issue to Rep. Mike McKell, R-Spanish Fork, after he looked to hire a BYU law school graduate who doesn't have legal status. The woman, who came to the U.S. with her parents at age 12, is a Deferred Action for Childhood Arrivals program recipient, protecting her from deportation and enabling her to work legally in the United States.
Spencer said the woman passed the bar in California, where law school graduates with DACA status are allowed to take the exam. Her work, however, is limited to federal courts. Spencer's firm, Fillmore Spencer, is general practice.
"I think that this is an issue that ought to be addressed, that ought to be changed," he told Judiciary Interim Committee.
Some lawmakers agree.
"I think we need to find a solution," said McKell, an attorney. "It seems odd to me that we're admitting students (to law school) that we're not going to allow to sit for the bar, and it seems inappropriate as a state to do that."
But the issue raises some tricky and complicated legal questions.
The Utah Supreme Court has exclusive authority over the practice of law in the state. But a 1996 federal law prohibits states from issuing licenses to some undocumented residents "unless there's enactment of a state law," Utah State Bar general counsel Elizabeth Wright told the committee.
The supreme court of Florida determined its legislature has to say whether licenses are allowed, while in New York the court maintained jurisdiction of licensing and bar admission, she said.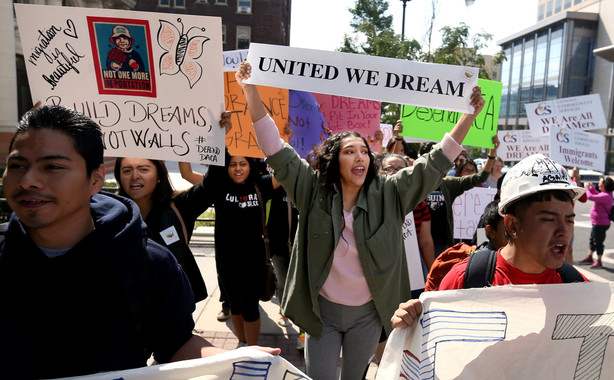 Wright said the Utah bar has a petition pending before the Utah Supreme Court to let undocumented law school graduates take the bar exam.
"The bar is in favor of bar admission for DACA recipients," she said.
Jacey Skinner, deputy court administrator for the Utah Administrative Offices of the Courts, said the state's high court hasn't acted on the petition because the issue was not "ripe."
"It sounds like that situation has in fact changed," she said.
Spencer suggested the Utah Legislature could pass a law to solely apply to the woman he interviewed or it could pass a bill clearly signaling its intent to the Utah Supreme Court.
Related story:
Judge orders reopening of DACA, after 90-day delay
Another federal judge has overruled the Trump administration's efforts to end a popular immigration program — this time saying the government has to accept new applications.
But Rep. Brian Greene, R-Pleasant Grove, said he doesn't see how either of those would work given that the Supreme Court exclusively regulates the practice of law. He also wondered if passing a law for one person violates the Utah Constitution's provision for general laws.
"I don't know that there is a legislative remedy here," he said. "I still don't see how either of these solutions is the final determining factor."
Lawmakers decided to let the bar petition run its course, though McKell said time is of the essence in getting an answer.
Skinner said the Utah Supreme Court meets every other week to consider such issue and it would go directly to its agenda. But she couldn't say how quickly it would make a decision.
We're sorry, currently this live video stream is only available inside of Utah or an approved RSL broadcast territory.
We base your location on your IP address. Some providers IP addresses may show your location outside of the state, even though you are physically within the state boundaries. For more information about RSL on KSL, please see our FAQ.
This news has been published by title Utah Legislators Eye Ways For Law School Grads With DACA Status To Take Bar Exam
If the page you admission is error or not gate perfectly, keep busy visit the indigenous web in source CLICK HERE
Thank you for your visit to our website, hopefully the assistance we convey is useful, attain not forget to share and subscribe our web to get more information.
[TAG]827