Merritt assigned supervision of Gabriel's case to a member of his team named Pat Clement, who would become the fourth person from the agency to face criminal charges. (Clement declined to comment for this article.) Merritt told me she was "a little bit of a burnout case" but "good enough." Others remember her less favorably. "She was a ticking time bomb," Teresa Linn Stanley, a caseworker who once worked side by side with Clement, told me. "If you spent time with Pat, you just knew."
Stanley and her colleagues often puzzled over the fact that Clement, 68, had been a Catholic nun. The woman they knew was profane, ill-tempered, and prone to yelling at clients. Like many others, she'd wanted out of Palmdale for a long time, and she often talked about the business ventures she hoped would finance her escape: a vending-machine enterprise, an RV park. Neither got far past the idea stage.
Merritt wasn't blind to Clement's shortcomings—he told me he'd once written a performance evaluation that scored her work as substandard, only to have his boss remove his criticisms and raise her score to "competent." Under an agreement with the caseworkers' union, managers were forbidden to fire, suspend, demote, or even write negative comments about any of their workers once certain caseload caps were reached—and the department routinely exceeded those caps.
Clement paid her first visit to Gabriel's home on February 13, but her notes contain few details. She visited again two weeks later, and wrote that Pearl Fernandez described herself as the victim of a mother who never showed "any real love or positive feelings about her." Clement noted that Pearl's boyfriend, Isauro Aguirre, was "a very pleasant person." Despite Gabriel's steady absences, Clement wrote: "The children are attending school regularly and doing well."
Soon after Clement's first visit, Gabriel wrote several notes saying that he wanted to kill himself. One was addressed to his mother: "I love you so much that I will die." His brother Ezequiel discovered these notes days later, and Pearl discussed them with the therapist assigned to the family, Carmen Le Norgant, on the night of February 27. When Le Norgant asked Gabriel whether he was serious, he stared blankly and said "Yes." She informed Clement and Merritt, but they took no additional action. (Le Norgant also called 911. A police officer came to the home but left without talking to Gabriel.)
When Clement paid a third and final visit, on March 6, Pearl said she didn't want to have any further involvement with the agency—and Clement accepted her decision. "It is this [worker's] assessment that mother is overwhelmed with her own emotional pain, she is unwilling to continue counseling at this time," Clement wrote. "There are no safety or risk's [sic] to the children's welfare at this time." Her recommendation: "Close the case."
County policy requires workers in Merritt's position to read the entire file before approving a closure, but the department's manual ran to 6,000 pages. The sheer number of rules caused many workers to consider them just suggestions that no human could ever fully absorb. Merritt told me that despite Clement's weaknesses, he had to rely on her to be his eyes and ears, so he signed off on her recommendation without reading the file.
"I learned early on that if I'm gonna be any good to my clients, I have to take care of myself," Merritt said. "When it was time to leave at 5 o'clock, I left, whether I had a mound of paperwork in my cubicle or not." The job was hard, and one of the things that angered him most was when a subordinate worked unpaid hours.
O
n April 26, Pearl Fernandez was at the welfare office with her children when a security guard named Arturo Martinez recognized what the trained professionals had somehow failed to see: that Gabriel was the victim of extreme abuse, and urgently needed rescuing.
Pearl was yelling at him to sit, and Martinez told her to tone it down. When he looked at Gabriel, he saw cigarette burns all over the boy's head and neck. His wrists had ligature marks, as if he'd been tied up.
Gabriel, he later testified, "turned around and made eye contact with me and I noticed he had a greenish-bluish eye—a black eye—and lumps on the back of his head. His skin was almost yellow, like he's been starving or something."
Gabriel's eyes seemed to ask Martinez for help. But Pearl noticed Martinez studying her son and abruptly grabbed Gabriel and his siblings and left, blocking Martinez's view of Gabriel on the way out.
Martinez approached the window where Pearl had been talking with a clerk, Maricela Corona, to ask whether she was going to report Pearl to the authorities. Corona said she wanted to help but was only filling in. He pressed, and she reluctantly went to ask a supervisor's permission. She returned a few minutes later, saying she had been ordered not to get involved. Martinez called his own supervisor and was told the same: "That's not your job. It's not part of your duties."
Martinez returned to his desk in disbelief. Finally, Corona slipped him the family's name and contact information, urging Martinez to "save this kid." He called the Department of Children and Family Services twice but got lost in the automated system and hung up. He called 911, but the operator said the situation didn't sound like an emergency and gave him the number for nonemergencies. He felt brushed off, judged. "Like, 'You ain't got nothing else to do?' " he told me. " 'I mean, everybody beats their kids.' " He called the number for nonemergencies and was later told that a sheriff's deputy had gone to Gabriel's home but hadn't seen anything wrong.
Martinez ultimately asked to be transferred to another office. He said he couldn't work with people who had refused to help Gabriel.
A
t Summerwind Elementary, the weeks dragged on. Gabriel's attendance was sporadic. Once, another boy complained that his mother had made him pancakes and he didn't like them. Garcia was telling him he was lucky his mother loved him—not everyone had that—when Gabriel chimed in. "Right, Mrs. Garcia?" he asked, as if he needed confirmation.
Still, Gabriel seemed desperate to win his mother's affection. He occasionally took books off the shelf, copied sentences in his own hand, and took them to Garcia. He asked her to put an A on the paper in the hope that his mother would be impressed. One day, he stole Garcia's iPod and took it to his mom, trying to please her. Instead, she punished him by sending him to school in girl's clothing the next day—a tiny pink shirt and tight polka-dot leggings. He walked into class with his head down. At recess someone lent him a baggy boy's shirt to cover himself.
Garcia lost hope that DCFS would offer any rescue. On the rare days when Gabriel came to class, she told him to be good and never give his mother a reason to get angry. She emailed the school psychologist, hoping that Gabriel might be able to receive counseling. The psychologist replied that there were no services available and provided a brochure that Garcia could send to Gabriel's mother on how to cope with behavioral problems. Garcia threw it in the trash in disgust and frustration.
In late April, Gabriel appeared in class looking worse than Garcia had ever seen him. One of his eyes was a deep red. Skin was peeling off his forehead. Other marks were scattered on his face, neck, and left ear. This time, Garcia didn't ask what had happened. Instead, she asked Gabriel whether he really wanted to do that day's assignment: making a Mother's Day card. He did, and he labored over every detail. The card was shaped like a house and said "Open the door to see who loves you." He pasted his picture inside. After school, Garcia made yet another call to Rodriguez. This time, the caseworker didn't pick up or call back. Rodriguez made no entry in the case file to reflect the call.
A few days later, Gabriel complained to Garcia that his eye was hurting, so she sent him to Donna Evans, the school nurse, who was brand-new in the job. Gabriel told her he had fallen off his bike and begged her not to send him home early. Evans had no authority to make a diagnosis or mandate further medical attention, but she wrote detailed notes, thinking that child-protective-services caseworkers might inquire about the incident.
She then called Pearl Fernandez to pick Gabriel up. That was a mistake, the school secretary, Pam Howell, told Evans. She knew—as so many of the school's staff members knew—that Gabriel was in danger at home.
B
y then, Gabriel's siblings later testified, he was spending almost all of his days and nights in "the cubby." Ezequiel said he sometimes tried to crack open the padlocked door to sneak Gabriel a banana. He said his mother and her boyfriend would threaten him if he didn't join in their beatings. He'd whisper in Gabriel's ear to fall to the ground quickly when he hit him.
On May 22, Pearl and Aguirre tortured Gabriel a final time. They turned to the tools they used regularly on him: a BB gun, pepper spray, coat hangers, and a wooden baseball bat.
Afterward, Pearl found Gabriel's sister Virginia on the edge of her bed, where she'd sat frozen throughout the beating. The girl later said that her mother asked her to help soak up blood from the floor.
Pearl and Aguirre eventually called 911. Pearl told the operator that Gabriel wasn't breathing, and Aguirre blamed the injuries on Gabriel's roughhousing with Ezequiel. "I tried to feel his heart," Aguirre said, "and nothing is moving."
When the paramedics arrived, Ezequiel guided them wordlessly inside. The medics felt two fractures in Gabriel's skull. He had broken ribs. Some of his teeth had been knocked out. BB pellets pockmarked his skin. Cigarette burns covered his feet and genitals. His neck had been stripped of a layer of skin. Cat feces had been forced down his throat.
T
he next day, the principal at Summerwind called Garcia into his office to tell her that Gabriel was dead. But then someone told her Gabriel was at Children's Hospital Los Angeles, and she thought maybe there was still hope.
She called the hospital, asking if she could visit. "I just pictured him being alone," she told me. "I wanted to go there and hold his hand and say, 'You're going to be okay. You survived. It's over now.' " But the operator wouldn't give her any information.
She later learned that Gabriel had been declared brain-dead by the time she'd called. Doctors took him off life support on May 24, 2013.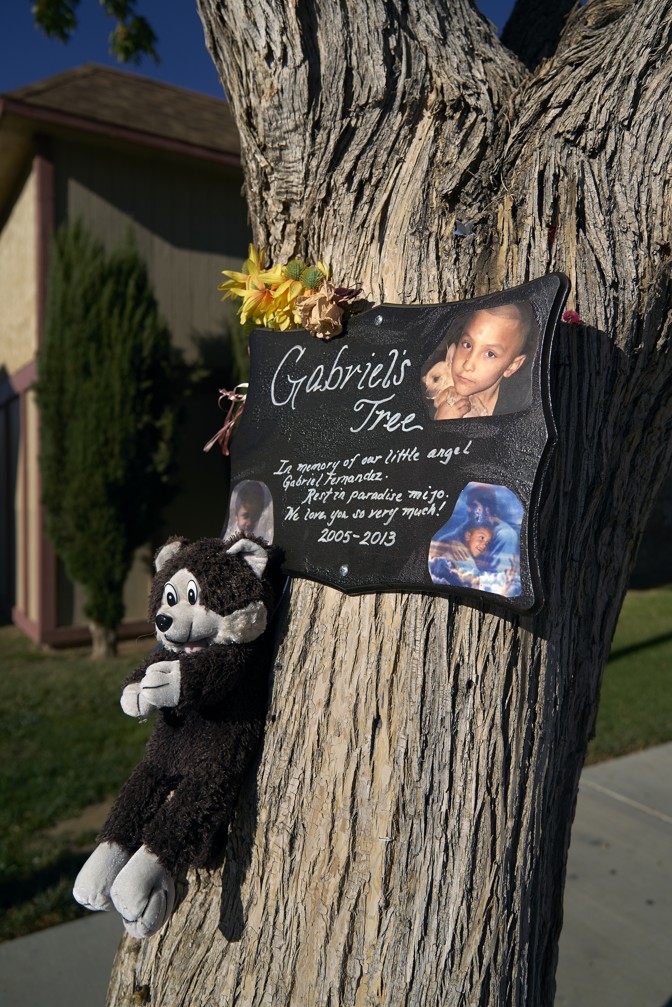 Back in her classroom, Garcia saw the Mother's Day card on Gabriel's desk. She remembered how hard he'd worked on it, even after she told him he didn't have to.
When her students arrived, she braced herself to give them the news.
"His mommy," she told them through tears, "hurt him really bad."
"His mom?" they asked, their faces filled with the deepest horror she'd ever seen in children so young.
"They just couldn't wrap their heads around it," she told me.
T
he temperature outside was already in the 80s on the morning last fall when Ezequiel and Virginia testified in Isauro Aguirre's murder trial. Inside, fluorescent bulbs threw a dull yellow light across the courtroom. On the wall behind the jury box, dark oily blotches had formed over the years behind the heads of countless weary jurors.
Ezequiel, who was now 16, had a faint mustache and a face shaped like Gabriel's. In a blue suit and a rumpled white shirt, he slouched just above the microphone, rocking from side to side in a swivel chair as lawyers asked him about his brother. His testimony lasted hours; he was unable to recall many details and had to constantly refer to transcripts of prior testimony.
"Would it be fair to say that you don't want to remember?" the prosecutor, Jon Hatami, asked at one point.
"Yes," he said. "I just don't want to remember it."
By contrast, Virginia, 14, appeared unable to escape her memories. She delivered her testimony with plaintive wails and required frequent recesses to gather herself.
"Did he ever have to eat anything weird?" Hatami asked.
"He ate cat poop."
"Did your mom make him do that?"
"Yes."
"A lot or a little?"
"A lot."
"Did he have to dance when they shot him with the BB gun?"
"Yes, they made him run around."
"Was he trying to get away?"
"Yes."
The jurors deliberated for five hours before finding Aguirre guilty of torture and murder. They recommended the death penalty. The next day, Pearl Fernandez's attorneys proposed a deal to accept life in prison without the possibility of parole or appeal if the prosecution would agree to drop its push for the death penalty. Virginia and Ezequiel, who now live with a relative in another state, asked Hatami to accept her plea; they didn't want to have to testify against her.
B
y the time Greg Merritt, Stefanie Rodriguez, Kevin Bom, and Pat Clement arrived for their own first day in court, on April 7, 2016, they were pariahs.
The announcement that they faced criminal charges had come as a shock. Almost three years had passed since Gabriel's death, and many people had all but forgotten that a criminal review was under way. Browning, the head of the department, had referred the case to the district attorney's office in the immediate aftermath of Gabriel's death. But he told me he'd sent the information only to be thorough; he'd never expected anything to come of it.
All four of the caseworkers had been fired. Clement had filed for bankruptcy. Rodriguez had moved to a new city but couldn't escape Gabriel's story: Her picture had appeared on local TV and in the newspaper there. Bom had managed to start a new career as a custody evaluator in divorce cases, but he lost that job after the criminal charges were filed. Former colleagues told me he now mows lawns.
Merritt was on antidepressants, and he rarely left the house. He was able to find only sporadic work, stocking beer at the Antelope Valley Fairgrounds. His one solace was a men's group at church, where he felt he was able to make his case to a higher power. "I live Coram Deo," he said. "That means every day I live before the face of God, and that's what keeps me sane."
This news has been published by title Trump To Receive Routine Medical Exam Next Year, White House Says
If the page you access is mistake or not entrance perfectly, make smile visit the original web in source CLICK HERE
Thank you for your visit to our website, hopefully the guidance we convey is useful, get not forget to allowance and subscribe our web to acquire more information.
[TAG]2695