This, too, is crucial to understanding why Putin acts as he does, and how he is likely to think about new campaigns against the United States. The Kremlin's direction of the press, the close eye it keeps on polls and approval numbers, and especially its foreign policy—they all exist to buttress Putin's legitimacy, to curry favor with his 144 million subjects. It's a complicated, hiccuping feedback loop designed to guarantee that Putin's authoritarian rule remains popular and unthreatened.
This is why Putin insists on having elections, even if the result is always predictable. "Without renewing the mandate, the system can't survive," Chesnakov said. "According to polls, two-thirds of Russians don't want a monarchy. They want a democracy. But they have a different sense of it than Americans and Europeans."
Putin's third presidential term is up in the spring of 2018. He didn't bother to declare that he'd run for reelection until December 6 (the election is in March) and he likely won't campaign.* This is Putin's carefully cultivated image at home: the phlegmatic leader who hovers coolly above the fray as it churns on beneath him. But in the past year or so, the fray has given him reason to worry.
On a chilly afternoon this spring, I watched college students standing on the steps of a nondescript building off Volgograd's central square, waiting to meet with Alexey Navalny. The opposition leader and anti-corruption crusader has captured the imagination of many young Russians, as well as that of Westerners who see him as a potential rival of, or even replacement for, Putin. Navalny has declared that he is running for president in the upcoming election.
Police had blocked off the street in front of the building, which housed Navalny's local campaign office. They stood groggily watching as Cossacks, members of a southern Russian tribe who have historically acted as the state's vigilante enforcers, strolled up and down the block, casually swinging their black-leather whips. Angry-looking young men in track pants and sneakers—the other fists-for-hire preferred by the Kremlin—paced around the students, eyeing them menacingly. Young women in vertiginous heels—plainclothes cops—milled around. Every few minutes, they took out identical camcorders tagged with numbered yellow stickers and filmed the students standing on the steps, zooming in on their faces.
Navalny had recently been attacked by progovernment thugs who splashed "Brilliant Green," a Soviet-era antiseptic, on his face. His supporters subsequently posted an image of The Motherland Calls, the giant statue commemorating the Soviet victory at Stalingrad, with its face Photoshopped green, to publicize his rally in Volgograd. The image touched a nerve in a country where the government fetishizes World War II. Within hours, pro-Kremlin social-media accounts were using the image to fuel local outrage. By the time Navalny arrived in Volgograd, from Moscow, the youth wing of Putin's party was waiting with a protest.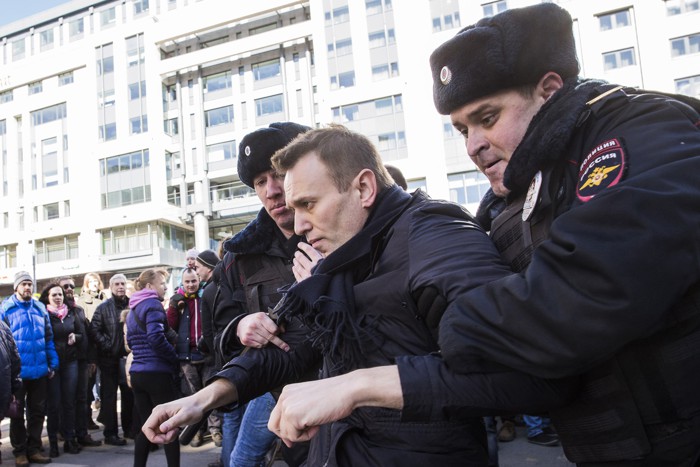 The students standing on the steps of the campaign office found the manufactured outrage funny. They were at an age when most things were funny, even when the state was clearly watching them. The FSB had recently sent a summons to the home of Vlad, a fourth-year student at Volgograd State University who had previously picketed in support of Navalny's Progress Party. Roman, a bespectacled third-year student in veterinary science, had been called into the dean's office for participating in a protest. "The dean said, 'Don't go to Navalny's protests. His political position is wrong,' " Roman told me, shrugging and shoving his hands into the pockets of his puffy red jacket.
These young men would soon graduate into an economy that had only recently started to grow again after a five-year malaise. But the growth is barely perceptible, while prices for basic goods have soared. Some of their neighbors and family acquaintances hadn't been paid in months, they said. "Our parents say things have gotten worse," Roman told me. But their parents also knew the potential cost of openly opposing the government, and weren't happy that their sons were at the rally that day. They also believed, from watching state TV, that Navalny was an American agent.
The young men laughed at this, too. Navalny had begun to build his base about a decade earlier, with a blog on LiveJournal that carefully documented how government officials supposedly carved thick slices off the state budget and stashed the money in Moscow mansions or real estate abroad. A few years ago, Navalny launched a YouTube channel where he posts slickly produced videos describing alleged government corruption schemes. On another YouTube channel, Navalny Live, he and his team at the Anti-Corruption Foundation host talk shows about politics, the kind of programming that would never be allowed on state-controlled television. Together, the channels have more than 1.5 million subscribers, and the videos have collected hundreds of millions of views.
As the students and I stood chatting, a retinue of preschoolers marched past the office with their teachers. The college students broke into laughter and cheers. "Everyone says that Navalny's supporters are really young, but I didn't know they were this young!," Roman said.
But things quickly lost their comic lightness when a young man in track pants started loudly arguing with an older Navalny supporter, saying Navalny was funded by the U.S. State Department and noting the personal offense he took at the green-faced Motherland Calls statue. "It's a monument to a great victory!" his friend, another angry young man in track pants, screamed. "It was built on bones! My grandfather fought for Stalingrad!" (His grandfather, he later admitted to me, had been born in Georgia in 1941.)
Suddenly, scores of anti-Navalny protesters appeared, some with brooms, as if preparing to sweep him out of their city. "Navalny, come out!" a middle-aged man with a shaved head screamed into a megaphone as the protesters surged across the sidewalk toward the campaign office. "Navalny, come out!" they yelled in response. The college students packed in tightly on the campaign office's front steps, ready to defend their leader. The two camps started pushing and shoving, the crowd swaying violently. The cops watched. I looked up and saw Roman's red jacket. He had taken off his glasses and stood on the top step, blinking and squinting into the noise. The swagger and irony had gone off his face. He looked vulnerable, like a child.
Navalny emerged at the top of the steps, calm as ever. Part of the crowd started chanting, "Shame! Shame! Shame!" Navalny invited the man with the megaphone and his comrades up the steps to talk with him calmly, face-to-face. They came up and grabbed him by the legs and started to drag him toward the hostile part of the crowd. Finally the cops acted, freeing Navalny and pushing the crowd back toward the street.
Navalny escaped into his campaign office, where, for the next three hours, he fielded questions in a room so packed with supporters that his hair was soon dripping with sweat. He spoke about the contrast between government elites' luxurious lifestyles and the region's sagging wages; about rising utility fees, despite falling energy prices; about the pitiful state of the roads.
"Alexey!" one of his supporters yelled out. "There's nothing left in our city since 1945 except the victory!" Everyone clapped.
Navalny laughed at the state's accusations that his supporters—the hundreds of people sweating with him in the room—had been paid by the U.S. State Department to show up. "This is the real political force of the country," he said. "And we will win. We are destined for victory, because in any culture, in any civilization, people like us win, because they lie and we tell the truth."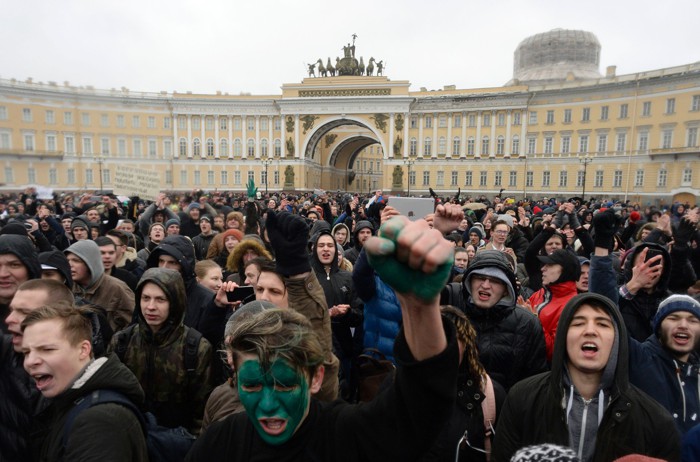 I wiped clear a small rectangle on a fogged-up window. There was nothing left of the angry crowd, not even the police. They had vanished as quickly as they had materialized.
Two days later, on March 26, Navalny rushed back to Moscow, where thousands of people had heeded his call to come out and protest state corruption. Tens of thousands more came out in nearly 100 other Russian cities and towns, across Russia's 11 time zones—an unexpected showing that grabbed international headlines. Earlier that month, Navalny had posted an hour-long exposé on YouTube about the extensive luxury-real-estate holdings of the prime minister and former president, Dmitry Medvedev—who in 2008 had lamented that a sum equivalent to a third of the Russian federal budget had disappeared to corruption. Navalny contrasted the opulence of Medvedev's many homes, filmed by drones, with his awkward call for austerity to the residents of Crimea, who, on joining Russia, had lost access to a steady supply of water, electricity, and reasonably priced food. "There's no money," Medvedev advised them two years after the annexation, in 2016, "but you hang in there."
By the time of the mass protests, the exposé had been watched almost 12 million times. A couple of schoolboys climbed up on a lamppost in Moscow's iconic Pushkin Square, packed with protesters, and called to the cops trying to get them down, "There's no money, but we're hanging in there!"
In recent years, as the economy has struggled, Putin has purchased his popularity with a series of tactical measures. Putin pays extremely close attention to his approval ratings to see what works and what doesn't. He and his advisers are addicted to polls. According to Alexander Oslon, who runs the Public Opinion Foundation, which does polling for the Kremlin, "They can't live without them."
Putin's approval rating surged in 2014 with the annexation of Crimea—and, by extension, Russia's return to imperial grandeur. It was a risky maneuver, the equal, perhaps, of Putin's later interference in the U.S. election. And it paid off, at least in the short term. Russians rallied behind the Russian-backed separatists in eastern Ukraine—and behind Putin, their audacious president. "There was a spike in loyalty" toward "every organ of the state," Kirill Rogov, a political analyst in Moscow who studies Russian polling, told me—"a conservative shift in all directions. People started paying more attention to the news, they watched more TV, and they became more indoctrinated." For a decade, a majority of Russians had told pollsters that they would rather be well-off than live in a great power. In 2014, those preferences flipped.
But the rush of patriotism provided by the Crimean annexation proved fleeting. Connected by land only to Ukraine, Crimea is hard to supply from Russia. The peninsula is facing severe water shortages in its near future, and tourism, a mainstay of the local economy, has plummeted. On a recent trip there, I was told by even the most ardently pro-Russia locals, Cossacks who had staged protests supporting Moscow in 2014, that they had come to regret their stance. The violent lawlessness and corruption of Moscow had reached their home, and life had become much harder as Russian citizens. In some ways, they missed being Ukrainian.
Meanwhile, the already sluggish Russian economy has lost cheap Western financing, following the imposition of American and European sanctions. Putin's response to those sanctions—banning food imports from the United States and the EU—made food prices climb by double-digit percentages. The economy sank into recession. By the beginning of 2017, the government's approval numbers had nearly returned to pre-annexation levels.
"It's the brand of the year," Minin said of Russia's hackers. "It's a good thing when, aside from oil, we have cutting-edge specialists" whom the whole world talks about.>

Russia's intervention in Syria, which began in the fall of 2015, offered another flag-wrapped distraction. As America shrank from its traditional role in the Middle East, Russia expanded its own, making an ostentatious show of fighting Islamist terrorists on behalf of a reluctant Western Christendom. Shortly after the Syrian army, aided by Russian airpower and commandos, retook the ancient city of Palmyra from the Islamic State, the Russian military flew the Mariinsky Orchestra in from St. Petersburg for a concert in front of the city's historic ruins—and a dozen press cameras. (Russian TV barely covered the loss of the city by Russian-backed forces to isis half a year later.)

There will inevitably be a reckoning for the Syrian adventure, too. For the entirety of his reign, Putin has struggled to contain an Islamist insurgency in Russia's North Caucasus mountains, from which terrorists have launched attacks on Moscow. But on a trip this spring to Dagestan, a mostly Muslim enclave in the heart of the mountains, I found that the region, once extremely violent, was peaceful. Worried about potential terror attacks in nearby Sochi during the 2014 Olympics, the Russian secret services had allowed hundreds, if not thousands, of Islamist rebels, all of them Russian citizens, to go to Syria. According to one report in Novaya Gazeta, the FSB even provided some of them with a passport and transportation to the Russian border.

It was a shortsighted counterterrorism strategy. Two Dagestani men who traveled to isis-controlled territories in Syria in order to bring back their children told me that they heard as much Russian as Arabic on the streets of isis cities. An October report by the Soufan Center, a security-intelligence nonprofit, showed that more foreign fighters in Iraq and Syria came from Russia than from any other country. What will become of these Russian fighters, now better trained and battle-hardened, as isis territory continues to shrink? Some 400 have already returned to Russia, according to the Soufan Center report, but even those who don't return home can wreak havoc: In April, a suicide bomber blew himself up at a St. Petersburg metro station, killing 13 people. Russian speakers outside the country who had joined isis were suspected of having radicalized him.

Russia's interference in the U.S. election was just as shortsighted. At first, Donald Trump's victory seemed to be a great coup for Putin. Kremlin loyalists celebrated Trump's inauguration in Moscow, including at a live watch party with free-flowing champagne. And it conferred on Russia prestige of a sort. When I asked Victor Minin, the former Russian-government cybersecurity specialist who runs hackathons across Russia, about the effect of American media coverage of Russian hackers, he said, "It's the brand of the year. It's a good thing when, aside from oil, we have cutting-edge specialists and the whole world is talking about them."

But this victory has burned out even faster than the others. The fingerprints that the Russians left behind, once discovered, raised an uproar in Washington. Congress, in a rare near-unanimous vote, stripped Trump of the ability to unilaterally lift American sanctions on Russia. They will very likely remain in place indefinitely, a prospect Medvedev bemoaned in a Facebook post the day Trump reluctantly signed the bill into law. Unable to get back the two diplomatic compounds in the U.S. that had been seized during the last days of the Obama administration, the Russians plunged headfirst into a destructive tit for tat—which resulted in the seizure of three more Russian diplomatic posts.

Ironically, one of the Russian institutions to suffer the most blowback for the Russian hack is the FSB, one of the agencies believed to be behind the 2016 interference. "Before 2016, the FSB had a good reputation in Washington," Andrei Soldatov, the Russian journalist, told me. The head of the FSB "was considered a reliable partner in fighting terrorism." But "it all ended in 2016, and it ended very badly." FSB officers were put on the FBI's most-wanted list for cybercriminals, an unprecedented retaliation. The head of the FSB's elite cyber unit and his deputy were forced out; two other top officers from the unit ended up in Moscow's most notorious jail. "They're now under incredible pressure both from the inside and the outside," Soldatov said. "Sometimes," says Michael Hayden, a director of the National Security Agency under George W. Bush, "you have successful covert operations that you wish hadn't succeeded."

Meddling in the U.S. election might have destabilized the American political system, but it is unclear how carefully Putin considered the potential consequences for his country. His goal is to stay in power another day, another year, and to deal with complications when—and if—they arise.

The protests sparked by Navalny are a complication that has, for now, been dealt with. Police arrested 1,043 people on March 26 in Moscow alone. On October 7, following another, smaller round of protests, they arrested hundreds more. Navalny will not be allowed on the election ballot, according to various reports and one Kremlin insider I spoke with; a recent court finding against him following trumped-up charges of embezzlement will most likely be used to disqualify him.

These were hardly the first protests that Putin has weathered. Massive prodemocracy, anti-Putin demonstrations rocked Moscow in the winter of 2011–12—and were followed by a violent police crackdown on May 6, 2012, the day before Putin was sworn in for a third time. Dozens of people, some of them first-time protesters, were given multiyear prison sentences. The Kremlin soon raised the penalties for participating in any kind of unsanctioned protest. Several people are now in jail simply for sharing or liking posts on social media.

Olga Romanova, who founded the NGO Russia Behind Bars to provide Russians with legal assistance, told me that the lesson the government is preparing for this new batch of young protesters "will be bigger and harsher" than the one in 2012, and that "it will last years." She said the state was threatening to separate protesting minors from their parents. The feared Investigative Committee "is calling in school principals, school psychologists, teachers for questioning," Romanova said. "And they testify against the kids." (This summer, under pressure from the Russian government, Romanova fled to Western Europe.)

Source : https://www.theatlantic.com/magazine/archive/2018/01/putins-game/546548/

3212