The stakes couldn't have been higher for the Northern Arizona Suns on Friday night. Win, and they would hold onto slim hopes of qualifying for the NBA Gatorade League's Western Conference playoffs for at least another day. Lose, and they would be eliminated from contention.
Defending G League champion Raptors 905 snuffed out Northern Arizona's playoff hopes, punching their own postseason ticket instead with a 118-114 victory at Prescott Valley Event Center. The Top 6 teams in both the Eastern and Western conferences qualify for the playoffs later this month.
"Our mindset is just to close out the regular season as best as we can," Raptors 905 coach Jerry Stackhouse said. "We still have an opportunity that we're playing for something."
Raptors 905 extended their winning streak to four games, while the Suns have now lost six of seven with four contests left in the 2017-18 season.
Northern Arizona (21-25 record) sat on the Western Conference playoff bubble entering Friday, four games behind the Reno Bighorns (26-20), who hold the sixth and final seed. (Reno beat the Agua Caliente Clippers, 113-95, Friday.)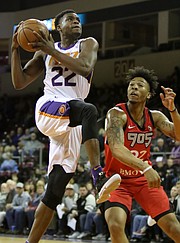 Matt Hinshaw/NAZ Suns

Northern Arizona Suns forward Danuel House shoots against the Raptors 905 at the Prescott Valley Event Center on Friday, March 16, 2018.

Raptors 905 (29-17) of the Eastern Conference, which entered Friday with the No. 4 playoff seed, were led by guard Lorenzo Brown, who drained a game-high 26 points with nine assists and seven rebounds.

Brown went 7 for 7 at the free-throw line, including 6 of 6 in the final minute of regulation to seal the win. Center Kennedy Meeks added 25 points and 15 rebounds on 12 of 16 shooting.

"He's been up and down with the [NBA's Toronto] Raptors, so his confidence is extremely high," Stackhouse said of Brown. "He's a guy that we count on to make plays for us late in games, and there's not anybody we'd rather have up there shootin' those free throws at the end of a game. He made plays for us throughout the fourth quarter as well."

The Suns played inspired basketball, as six players scored in double figures, paced by Alec Peters' 23 points (7 of 12 from 3-point range). Josh Gray added 20 points, 11 assists and two steals. The problem? Raptors 905 outrebounded Northern Arizona, 54-32, including an 18-5 edge on the offensive glass.

"Our defense on the first shot was really good, but you can't give up 18 offensive rebounds and win a basketball game at this level," said first-year Suns coach Cody Toppert, previously an assistant coach for the 2017 G League runner-up Rio Grande Valley Vipers.

STACKHOUSE LOVES PRESCOTT

In an interview with ESPN weeks ago, Raptors 905 coach Jerry Stackhouse, a former NBA star, was asked about interesting moments on the road as a coach in the G League. He mentioned that he never imagined visiting Prescott (actually Prescott Valley), which he and his 905 team did during the NAZ Suns' inaugural season here last year.

"It wasn't a slight on Prescott – it was just kinda in my run in my career I didn't think [I'd go anywhere other than Phoenix]," Stackhouse said. "And then taking that trip [from Phoenix to Prescott] and seeing all the cactus and stuff it was like, 'What am I doing?'

"But I've enjoyed the time here. The last time we were here, we took the guys bowling. Tell the people of Prescott I love them."

UP NEXT

Northern Arizona will play its final road game of the regular season at 6 p.m. Sunday at Pacific Division opponent Santa Cruz Warriors (22-24) in California. The Suns will then return to PV Event Center for their last three contests, starting at 6:30 p.m. Wednesday, March 21, versus the Texas Legends (26-20).

Doug Cook is a sports reporter for The Daily Courier. Follow him on Twitter at @dougout_dc. Email him at dcook@prescottaz.com or call 928-445-3333, ext. 2039.
Source : http://www.dcourier.com/news/2018/mar/16/raptors-905-eliminate-suns-playoff-contention/
743