Earlier this month, I analyzed the prospects for an expected dividend raise for International Business Machines (IBM). Given the ongoing buyback that is reducing the share count, plus the company's revenue situation finally starting to improve, I expected a raise to be similar to last year's. On Tuesday morning, IBM did announce an increase to its quarterly payout, but it came up a bit short of what I was expecting.
This morning, the quarterly dividend was raised to $1.57 per share. That's a 7 cent increase, or about 4.7%. IBM had raised the dividend by at least a dime per share for ten straight years, and on a percentage basis this is the smallest hike in quite some time. After a number of double digit percentage raises following the financial crisis, the last two years still saw increases of more than 7%. This year we are under 5%. The chart below shows where the annual payout now stands, with the "2018" year below reflecting the $1.57 newly raised payout rate.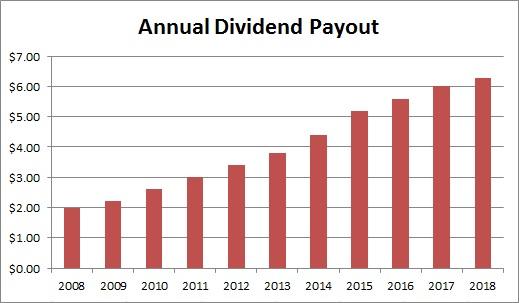 (Source: IBM financial information page)
As I mentioned in my preview article, IBM's buyback had been a little stronger over the past year as compared to the prior year, which is why I expected a similar dime or so raise. Just take a look at what was reported in the income statement for a diluted share count for the past couple of years in terms of IBM's Q1 reports:
Q1 2017: Share count of 947.8 million, as compared to 964.4 million in the prior year period.

Decline of 16.6 million, or 1.72%.

Q1 2018: Share count of 925.4 million, as compared to 947.8 million in the prior year period.

Decline of 22.4 million, or 2.36%.
With IBM shares falling after the most recent earnings report, the buyback will continue to be quite powerful at these levels. Perhaps the board wants more cash funneled to the buyback as a result, hurting the dividend hike by a couple of pennies per share? IBM might also be looking at acquisitions to further bolster its cloud investments and get revenues growing further. Maybe another year of flat adjusted earnings is finally catching up, with the board deciding to be a little cautious. We'll see if we get any commentary from management in the coming weeks or perhaps at the Q2 report in July.
As of right now, the annual yield for IBM is now up to 4.27%. That is certainly a high yield for a large cap technology name, but IBM also isn't growing as fast as some of its peers, so it has become more of a value name. Some dividend names have lost a bit of luster recently with the spike in US Treasury Yields, as the 10-Year hit 3.00% Tuesday morning for example. That's another argument you could have made for a larger raise, to get IBM's yield up a bit more considering the rise in fixed income rates.
IBM shares are up almost 1% after the dividend news on Tuesday, but part of that may be just because the stock was beaten down so much after earnings. I thought this year's dividend raise would be a little more, given the stronger buyback and revenue situation improvement, but the board decided to go small. In the end, IBM remains a good income producer in tech land with a more than 4.25% annual yield. Were you disappointed in this year's raise? I look forward to your comments below.
Disclosure: I/we have no positions in any stocks mentioned, and no plans to initiate any positions within the next 72 hours.
I wrote this article myself, and it expresses my own opinions. I am not receiving compensation for it (other than from Seeking Alpha). I have no business relationship with any company whose stock is mentioned in this article.
Additional disclosure: Investors are always reminded that before making any investment, you should do your own proper due diligence on any name directly or indirectly mentioned in this article. Investors should also consider seeking advice from a broker or financial adviser before making any investment decisions. Any material in this article should be considered general information, and not relied on as a formal investment recommendation.
This news has been published by title IBM: What\'s The Dividend Raise?
If the page you permission is mistake or not log on perfectly, entertain visit the native web in source CLICK HERE
Thank you for your visit to our website, hopefully the information we convey is useful, reach not forget to allowance and subscribe our web to get more information.
[TAG]850