It wasn't long ago that travelers recoiled at the idea of visiting Iceland in the wintertime. Iceland? In winter? The country's name should dismiss the very premise. But Sif Gustavsson, the former director of Iceland's tourism board, had an epiphany: She could brand the slow winter months as "northern lights season," and all those frozen-over landscapes might take on new appeal.
Fast-forward a few years, and you know how that story ended: Iceland has become one of the hottest travel destinations on earth, and the coldest months are seeing unprecedented interest. In fact, interest has almost outpaced development, with hotels racing to open their doors in the capital city of Reykjavik while intrepid outfitters beef up their offerings for upscale travelers.
All that's to say, if you're going to do an Iceland trip, you'd better do it right. And you'd better do all you can to see the northern lights, because coming home without glorious pink- and green-hued photos of the night sky is simply not an acceptable answer. Here's where to start.
When to go
Gustavsson, who now works as a sustainable tourism consultant with the independent marketing brand Iceland Cool Communications, has seen the northern lights as early as August and as late as April. But if you want to maximize your odds at a sighting, she says, go between November and February.
Tempting as Icelandair's stopover program is—you can get a free extended layover in Iceland—you'll want more than just a long weekend. Plan to spend a couple of days eating your way through Reykjavik's cutting-edge food scene, and then head to the countryside for a few nights of sky-gazing.
"When people try to chase the northern lights, that's when they wind up disappointed," says Gustavsson. "You just have to be patient." That's why she recommends booking a single hotel in the countryside for three or four nights and simply staying put. "If you stay in the countryside, you have nature on your side—the south shore and far east of Iceland are the best places."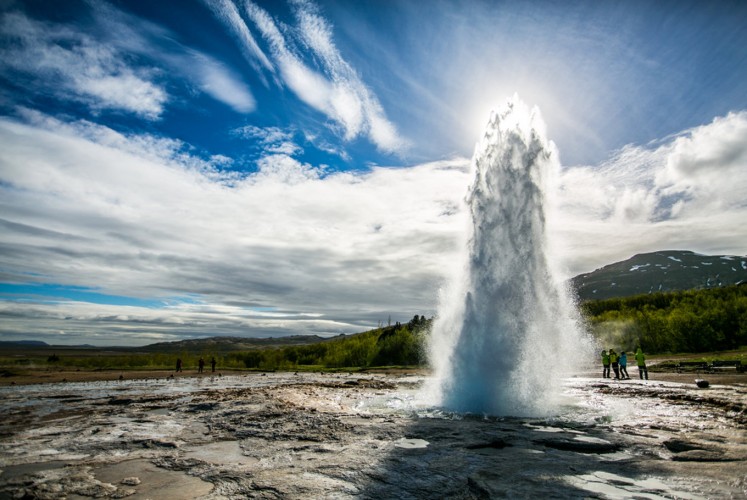 Erupting geysers in Iceland. (Shutterstock/File)
A case for group tours
Watching the northern lights might feel like a solitary activity, but Gustavsson says the camaraderie of picnicking and drinking in the ice fields is an experience not to be missed—and points out that tour operators will take you even farther into the middle of nowhere, where the skies will be darkest and the lights most vibrant. (If you want to explore the backwoods on your own, always check road conditions; this new resource has tons of essential, up-to-the-minute information.)
Another benefit of group tours? Most of them will let you rebook for free if your outing doesn't result in a colorful display. "If you're booking a tour, book it on your first night," advises Gustavsson, so you can keep trying each subsequent night until you succeed. "And if you feel like giving up, or know the weather will be poor, you can often pick an alternative tour—like whale watching by boat." She recommends Reykjavik Excursions and Special Tours for the widest variety of experiences, all well-executed.
(Read also: From Antarctica to Iceland, Chinese seek 'lung-cleansing' trips)
When to book
According to data provided to Bloomberg by fare-tracking company Hopper, you should shoot to book flights 50 to 80 days before departure. That means you've still got time to hit the tail end of the prime January-February window—and still snag a deal. But if price is no object, consider a last-minute trip: You'll pay more, but you'll have a better shot at predicting the lights themselves. Just last month, Icelandair launched a three-day outlook that tells you your odds at a northern lights sighting based on the KP index, a metric that helps track the earth's geothermal activity. (Look for a KP index of 5 or more if that's the basis for your impulsive vacation.)
No matter when you go, flights to Reykjavik are 28 percent cheaper this year compared with last; Hopper says if you snag a flight for $708 or less, you should feel good about the deal. But of course, that can fluctuate depending on your point of origin. From Boston or Baltimore, flights can be as affordable as $480; from D.C. and the West Coast, flights are more often in the $800 range.
 

This news has been published by title How To Plan The Perfect Northern Lights Viewing Trip In Iceland

If the page you entrance is error or not right of entry perfectly, charm visit the original web in source CLICK HERE

Thank you for your visit to our website, hopefully the assistance we convey is useful, complete not forget to share and subscribe our web to get more information.

[TAG]845