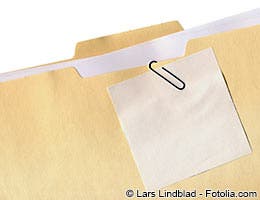 If you haven't bought a house in the last few years, you're in for a rude surprise. To get financing, buyers have to provide a lot more paperwork these days, says Ron Phipps, principal with Warwick, R.I.-based Phipps Realty and past president of the National Association of Realtors.
Start a pre-qualification file, he recommends. Whether you'll use your computer scanner or a plain manila folder, include your 1099s, pay stubs (at least your last three), copies of your last three tax returns, and a list of your liabilities and assets.
While some experts advise waiting until you're about three months out, the six-month mark can be a good time to get yourself vetted for financing, too. If you qualify, it gives you an idea of how large a loan you can get (as opposed to how much you can comfortably afford). And if any problems pop up, you should have time to fix them.
Whether you want to be pre-qualified (less stringent) or preapproved (more rigorous), at this point is up to you. "The transition from pre-qualified to preapproved is fairly quick," Phipps says.
Source : http://www.bankrate.com/finance/real-estate/6-month-homebuyer-countdown.aspx
220