TAMPA -- When the Washington Capitals advanced past the Columbus Blue Jackets in the first round of the Eastern Conference playoffs, forward T.J. Oshie was asked how this postseason was going to be different from the past. The Capitals were slotted to face the Pittsburgh Penguins, whom they couldn't beat, in the conference semifinals, from which they couldn't advance.
Oshie, with confidence, said it would be different because this wasn't the same Capitals team.
"Defensively, we're more aware of the correct reads. Defensively, we're a little more responsible," he said. "I think in years past, our lineup was pretty stacked. It seemed like we kinda got away with good players making [bad] reads."
h1">
>Editor's Picks
img src="http://a.espncdn.com/combiner/i?img=/photo/2018/0514/r370471_1296x1296_1-1.png&w=130&h=130&scale=crop&location=center"">Not just Jets: Cars join Winnipeg whiteout

Winnipeg car dealerships are showing their support for the Jets by getting on board with the team's whiteout campaign.

img src="http://a.espncdn.com/combiner/i?img=/photo/2018/0514/r370397_1296x1296_1-1.jpg&w=130&h=130&scale=crop&location=center"">Regrading NHL trade-deadline deals

With the benefit of hindsight, we look back at which deals were the best. Plus, chaos in the ECHL, backlash to Kyle Dubas, Jersey Fouls and more.

img src="http://a.espncdn.com/combiner/i?img=/photo/2018/0513/r370144_1296x1296_1-1.jpg&w=130&h=130&scale=crop&location=center"">Secret to Capitals' success: Ovechkin's superstitions?

The Capitals are up 2-0 on the Lightning, and Ovi has been playing some of the best hockey of his life. Is it all thanks to "hot laps" and a stool?
2 Related
Through two rounds, Oshie seems prophetic. The Capitals have a 2.62 goals-against average in the playoffs, but their shots-against per game average has dropped from 31.9 in the regular season to 29.4 in the playoffs, the lowest for any of the final four teams. That was evident in a Game 1 win over the Tampa Bay Lightning in the Eastern Conference finals: The Capitals limited a team that was averaging more than 32 shots per game to just 21 in a 4-2 victory. The Capitals allowed 35 in Game 2 but won 6-2.
"A little bit of that is the playoffs. Everyone's more detailed," coach Barry Trotz said.
But a lot of it has to do with the Capitals' renewed commitment to defensive hockey, which was established near the end of the season. It was born out of necessity: doing what's necessary to win in the playoffs and doing what's necessary to compensate for the limitations of the lineup.
Oshie said there were pivotal meetings internally with players and coaches in the days leading up to the playoffs, and those happened to coincide with one particular regular-season game. Although he didn't specify a date, many have pointed to the April 1 game against the Penguins as the catalyst. The results weren't immediate, as the Penguins had 37 shots on goal, but they were promising, as only eight of the Pens' 22 even-strength chances were high-danger scoring opportunities. Most importantly, the Capitals won 3-1 for further proof of concept.
"It was structural," Oshie said. "The coaches sat down in a team meeting. We had a game one day, and we did a better job that game, and we sat down, and we revisited it. It's been a focus in all our meetings. It was something that was very necessary."
What changed, in particular?
The Capitals started disrupting more scoring chances -- by any means necessary. Sticks. Skates. Bodies. If a puck were going to be delivered to their net, it wasn't going to have an uninterrupted journey. If a pass were going to be sent, its path wouldn't be clean. It's ensuring that goalie Braden Holtby, who has been quite good through two rounds and one game, is the last line of defense rather than the only line of defense.
"We sat down, and we really focused on our D-zone and really focused on what we have to do to succeed," Oshie said. "A lot of guys take some pretty tough shots, and it doesn't feel good when you take that shot off the foot or a bad spot. But guys are doing it. And guys are taking pride in doing it. It's ingrained in us."
The numbers show it. The Capitals are blocking 17.8 shots per game this postseason, up from 16.0 in the 2017 playoffs and 16.1 in 2016.
"That will and that sacrifice are becoming the standard right now," Oshie said. "We gotta keep that as our core way of playing."
figure">
The standards had to change because the old mindset had proven inefficient in the playoffs.
"Last year, we had the mindset that we were going to find a way to score three or four or five goals," center Lars Eller said. "This year, we've been a little bit more aware of what it was going to take to be successful."
It's indisputable that the Capitals entered the season with diminished expectations and one of their thinnest offensive groups of the Alex Ovechkin era. They'd be the first ones to confirm that. This wasn't a team that could roll over the opposition offensively. Things had to be different, and different turned out to be generating offense from a defensive commitment.
"It's been building all year, playing the right way, figuring it out," center Jay Beagle said. "With every team it's different, system-wise and personnel-wise. A lot of us said we were finding it at the right time this year. Instead of finding it in December like we did in previous years, almost peaking too early, this year we were building all year to the playoffs."
The playoffs have seen the Capitals get offensive through odd-man rushes that were generated by good defense, especially in the Pittsburgh series.
h1">
>The Stanley Cup playoffs on ESPN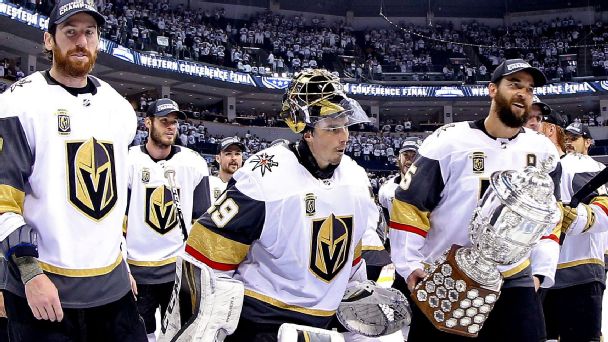 Stanley Cup Playoffs Central »
Conference final results:
Conference semifinal results:
Round 1 results:
"We're learning, on the backcheck, that the quicker we get back and the harder we get back, the more pucks we're going to turn over. And that turns into offense," Oshie said. "It always feels like if there's a shot block, [there are] three [opposing] forwards going to the net thinking they're going to get a tip. When that shot doesn't get there, you're on the other side of the puck. It's creating offense for us. But we have to put in the effort -- sacrificing the body."
div">>
The Capitals aren't a defensive juggernaut. To a man, they expect the Lightning to come back in the series after lackluster outings in the first two games.
"It was one of those games where we know there's some areas that we want to improve on," Steven Stamkos of the Lightning said after Game 1. "Trying to get to the neutral zone and make smarter decisions with the puck and just come up the ice with more speed. That was something that I think when we did it, we had some chances off the rush and establishing zone time, so we'll look to do that."
The Capitals will look to restrict them from doing so.
"Guy after guy, lines after line, we're playing the same way," Oshie said. "We've got everyone playing the same way, making sacrifices and chipping in throughout our four lines. With our depth and our goaltending, it's going to be hard to beat us when we're playing that way."
This news has been published by title 2018 Stanley Cup Playoffs Washington Capitals Have Higher Standards, Changes In Playing Style This Postseason NHL
If the page you right of entry is error or not admittance perfectly, interest visit the native web in source CLICK HERE
Thank you for your visit to our website, hopefully the assistance we convey is useful, pull off not forget to part and subscribe our web to get more information.
[TAG]1704